Interventional Vascular Specialist located in Los Angeles, CA & Encino, CA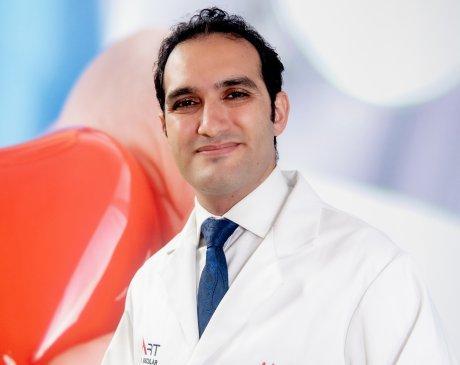 About Dr. Hakham
Dr. Salar Hakham is a Vascular & Interventional Specialist at at LA Vascular Specialists in the Beverly Hills, Glendale and Encino communities in Los Angeles, California. Dr. Salar Hakham has academic level expertise in performing advanced, minimally invasive vascular procedures and with special interest in endovascular surgeries for the treatment of peripheral arterial disease and limb salvage (amputation prevention). Salar Hakham is board certified by the American Board of Radiology with a certificate of added qualification (CAQ) in Vascular and Interventional Radiology.
Dr. Salar Hakham is a graduate of University of California, Los Angeles (UCLA), where he obtained his Bachelor of Science in Psychobiology with a Suma Cum Laude in Departmental Honors. He attended medical school at Western University in California, and completed his four year radiology residency at Tufts University Medical Center in Boston. He then went on to complete a vigorous year of subspecialty training in vascular and endovascular fellowship and interventional oncology at the prestigious Loma Linda University Medical Center.
Dr. Salar Hakham's clinical expertise includes the evaluation and management of patients with a wide array of disease types such as uterine fibroids, peripheral vascular disease, dialysis access, cancer (lung, liver, renal, and metastatic), and palliative/pain management among other conditions. He specializes in minimally invasive image-guided procedures and endovascular surgeries including PAD interventions such as atherectomy, arterial angioplasty and stent placement, vascular salvage for dialysis access, tumor embolization and ablation, and vertebroplasty/kyphoplasty.
Dr. Salar Hakham is the Chief of Interventional Radiology at Beverly Hospital in Montebello and the Director of Interventional Radiology at the Amputation Prevention and Wound Care Center at Beverly Hospital. He is on the Medical Executive Committee at the Emanate Hospitals where he also serves as Departmental Chair for Radiology. He currently holds physician privileges at several hospitals in Los Angeles, San Gabriel Valley, and West Covina and is an active member of the Society of Interventional Radiology and the American Medical Association. Dr. Hakham's vision as the co-founder of ART Vascular is to create a new paradigm for providing excellent care to patients with vascular disorders.
As a leader in minimally invasive peripheral artery disease treatments, he is credited with preventing thousands of leg amputations.
LA Vascular Specialists accepts most PPO and Medicare insurance plans. For questions about your coverage, please call the office.
View full list of companies